Phoebe's Halong bay and Catba Island 3D2N beautiful story
It was early in the morning when the bus driver knocked on the door at Ga hostel. I sat in one of sixteen seats on the FantaSea Cruise bus. Here began my journey of 2 days, 1 night to one of the seven wonders of the world: UNESCO – Ha Long Bay.
2.5 hours en route to Ha Long we stopped in Hai Duong province, famous for the sweet idyllic green bean cakes. Mmm.
The next two hours passed quick as I stepped out into the blazing sun and cool breeze, richly scented of sea salt, at Tuan Chau habour Quang Ninh port. The noon sun reminded me of the time. At the crowded port I watched boats dock as they finished yesterday's trips and welcomed new groups to the trips of today. What an amazing atmosphere!
While I was still engrossed in the scenery, our ferry arrived to carry us to the FantaSea Cruise boat, awaiting us in the bay. My life jacket had a gold zipper (so fancy!).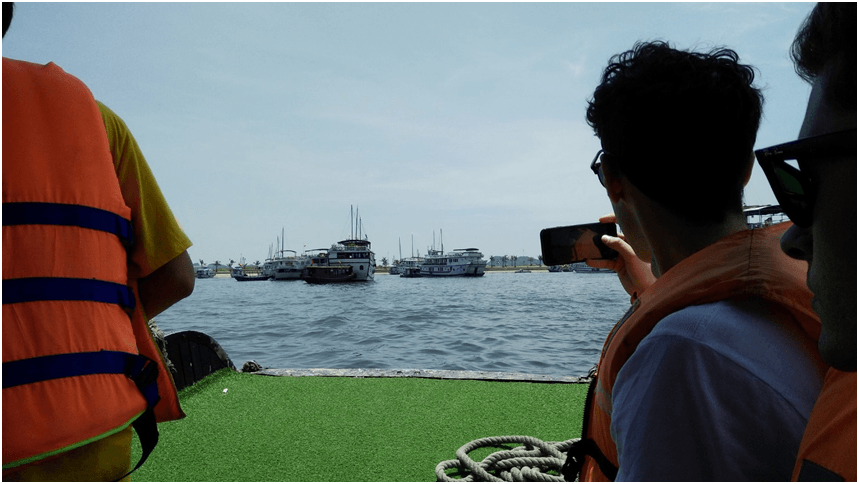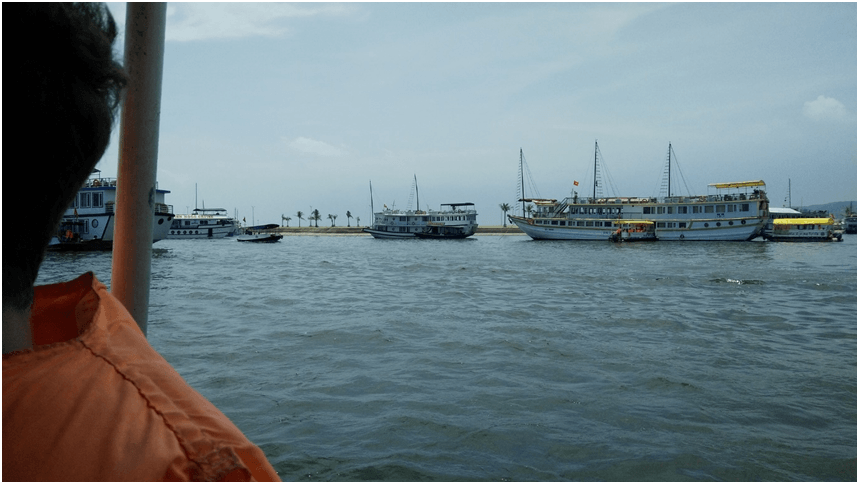 Aboard the Fantasea Deluxe Cruise, the staff greeted us warmly. We waited in the dining room to get our room key. Lunch was served during our wait. The dining room is located on the second floor where we were able to look straight out to the blue sea, the whispering waves and all the beautiful little islands. We had a simple lunch: stir fry, salads, meat, rice and fish (it's everywhere at this place)!
Next step: laying on the roof-deck beach chairs and sunbathing to relax after a long week of work in Hanoi. Meanwhile, the cruise passed by other beautiful islets before we reach Amazing Cave. The ship docked at Bo Hon Island.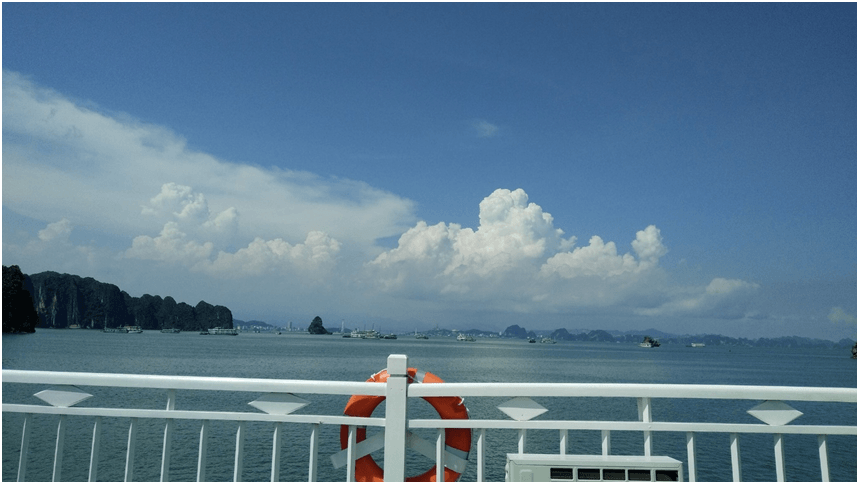 This cave is said to be accidentally discovered by a French delegate in 1901. He was so amazed by the shimmering beauty of the cave that he named it "Grotte des Surprises" – Cave of Amazement.
Amazing Cave has two main chambers. The first chamber is wide with many stalactites that look like elephants, seals, and flowers all hanging from the high ceiling. The beauty was as if I fell into the fairy world. From the first chamber a narrow passage lead us to the second. I was overwhelmed by the vast space that can accommodate thousands of people. and all the brilliant light for a moment that visitors thought they are almost in Elysium. The deeper we go in, unexpected and interesting each time the thicker, like clear water lakes, fingers, dinosaurs statues...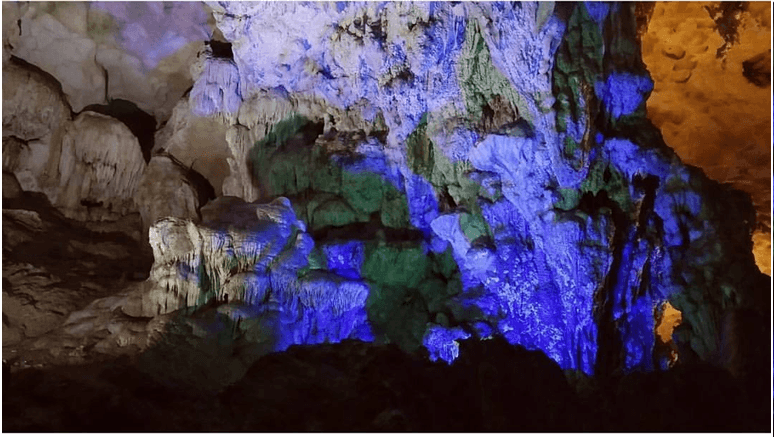 The cave is totally beautiful. Even the way up was pretty enough to make people's hearts flutter. Standing at the bottom of the path, I could see the sun lit cave floor. It looked so near that I could grab it with my hands.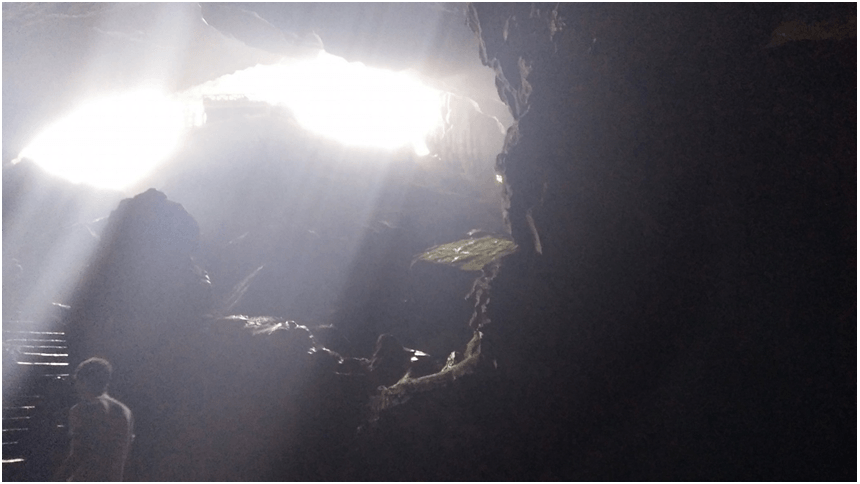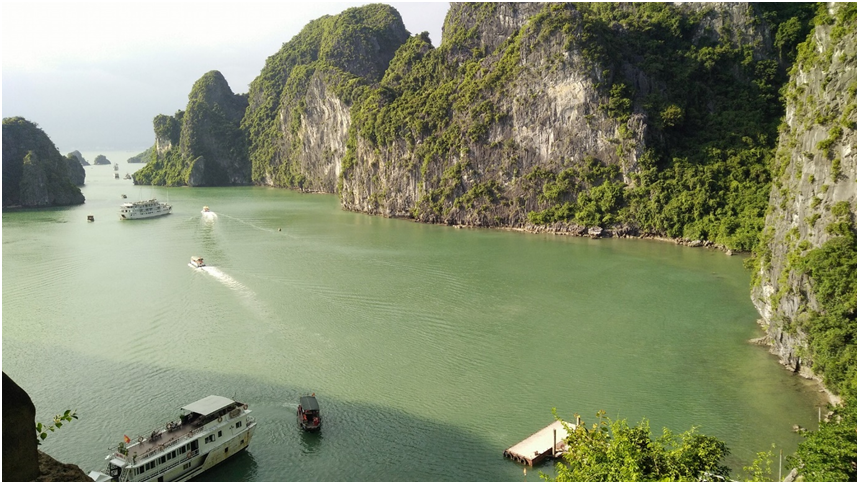 After the cave, we walked for fifteen minutes back to the ship.
Since it was my first time for kayaking, I shared a boat with a more experienced kayaker. I was quite afraid while boarding the kayak as it was a bit shaky, but after five minutes I managed to get everything under control. We went kayaking around the Luon Cave which situated on Bo Hon Island has Con Rua Islet in front and the Sky Gate on the right. From here, we can see the cliffs stretch vertically out of the pure blue and smooth water as a mirror. Soon after everyone got the hang of it, we began to race against each other. It was so tiring that my back and shoulder were aching from all the paddling. I ended up with my clothes wet, but it was worth the two hours of fun.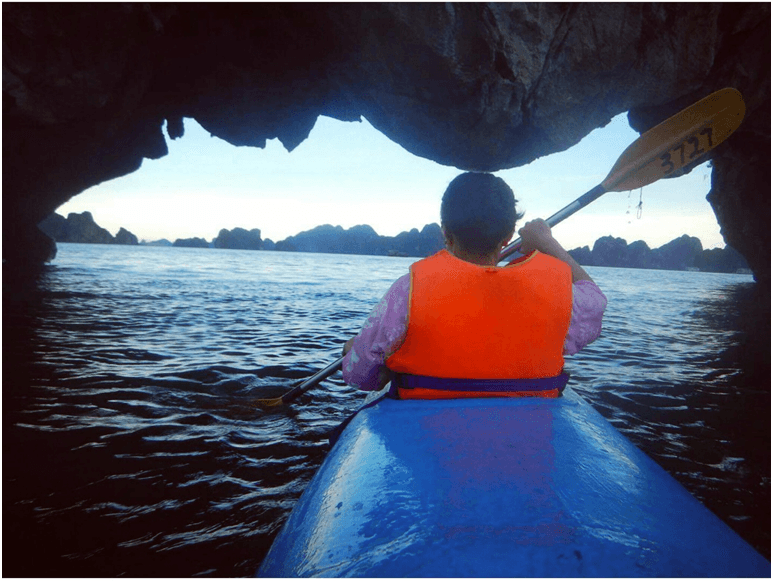 We returned to the cruise and went into the dining room where we were served a fresh fruit platter. Did I mention it was Happy Hour? That cruise had everything! The time was right because a cool "can of soda" is just what I needed at the moment after the exhausting kayaking race.
At half past six, dinner was served. The dinner was superb. We had chicken, pork, oysters, shrimp, salad and many other delicious dishes. I enjoyed my dinner quietly as there were quite a lot of people I had not met. The atmosphere wasn't very sociable with everyone busy stuffing themselves. After dinner, we had a karaoke session and squid fishing. As night fell, we were served beer and allowed to walk on the deck, watching the dark sky and star gazing. I went to sleep in my room which was on the second floor. I slept almost immediately after all the exhaustion.
I woke up in the morning and lifted the window blinds To find that it was dawn and I was lucky too see the sunrise. I could almost see the brush strokes where the orange glow of the sun lifted from the ocean. It made me realized that even a busy day in Halong Bay is still peaceful.
At seven o'clock, we had breakfast. I checked out of my room and left my luggage on the boat to continue touring to the next destination- the beautiful bay of the island, Titop.
Upon reaching the island, we hiked to the peak at an altitude of 100m. The hike was tiring but we get to enjoy a panoramic view of Halong bay which is captivating. Well worth the hike.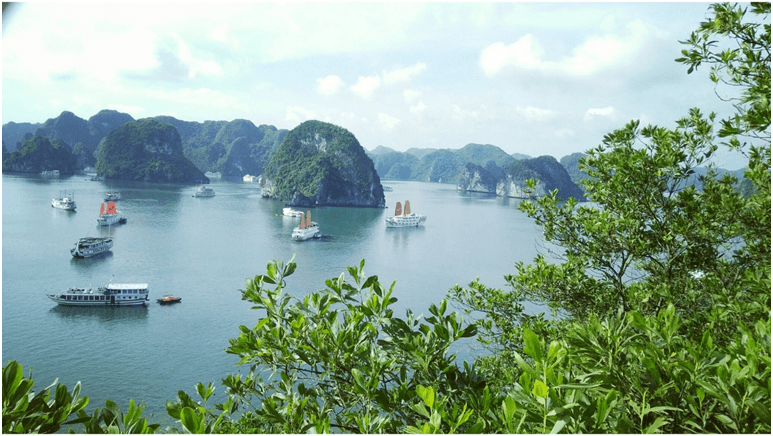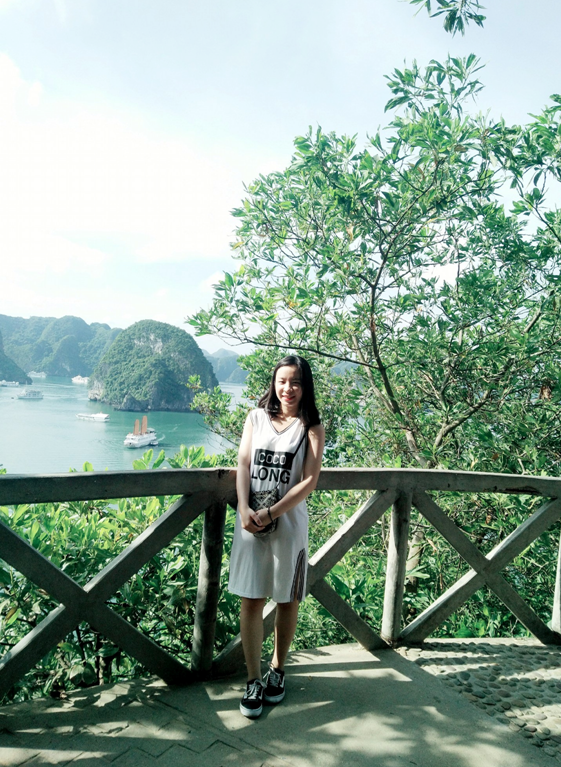 After finished Titop mountain climbing, I rushed to embrace the sea . Blue sea, clean, golden sand stretching along made me nostalgic place, did not want to leave .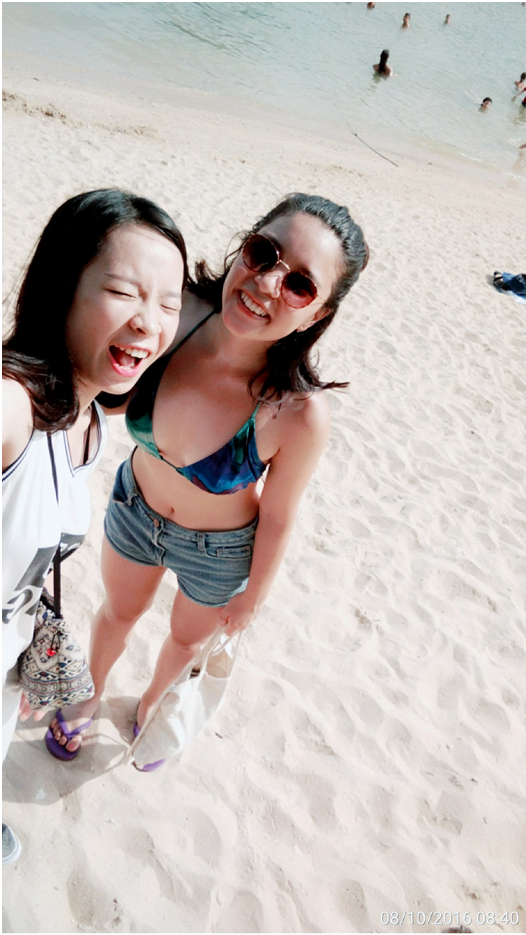 By eleven o'clock, we boarded a big boat that took us to Gia Luan piere then we moved to Cat Ba National Park where is home of over 1,500 species of plants, 282 species of fauna including most of the world's 65 remaining golden-headed langur; the world's most endangered primate. The Cat Ba National Park was vast. It would take us an hour if we were to climb to the summit which approximately 500 meters. From the top of Ngu Lam peak, you can see overall. It would have been too tiring, but we got to feel the freshness and sudden escape from urbanization.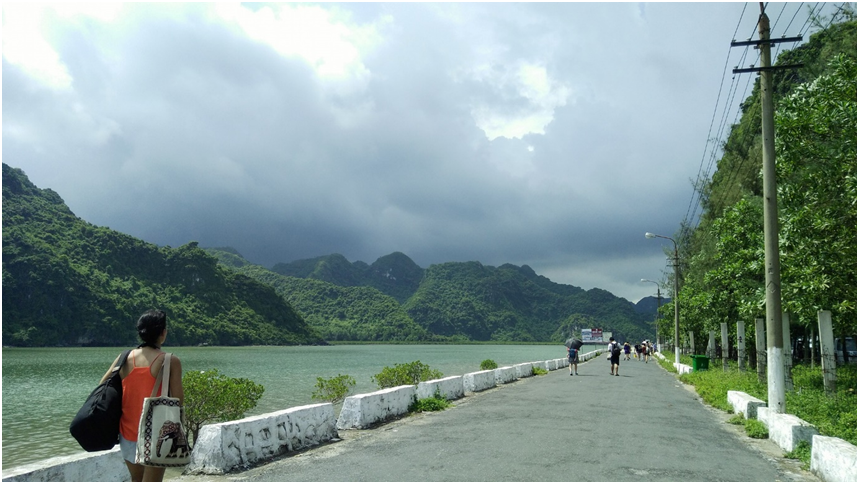 After the climb, we went to the hotel in Cat Ba town to have lunch and rest.
We were given two choices on what to do after lunch. We could either tour to Monkey Island or travel there on our own.
Monkey Island is only a twenty minute train ride from Cat Ba. The name was given because of the large resident population of mischievous monkeys.
The sea around Monkey Island is amazing - beyond pretty. So blue, so mellow.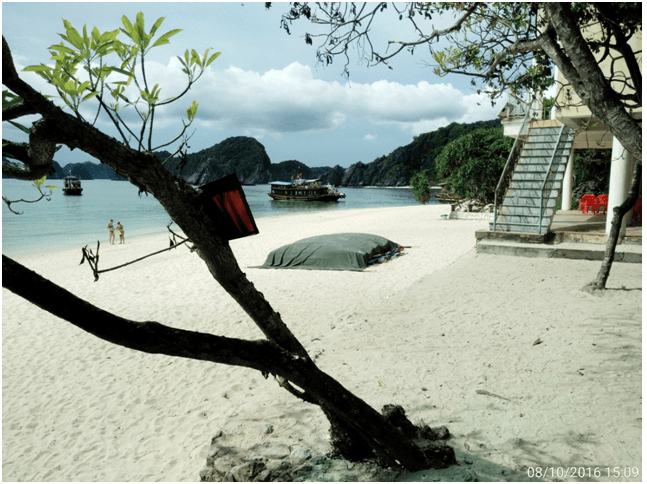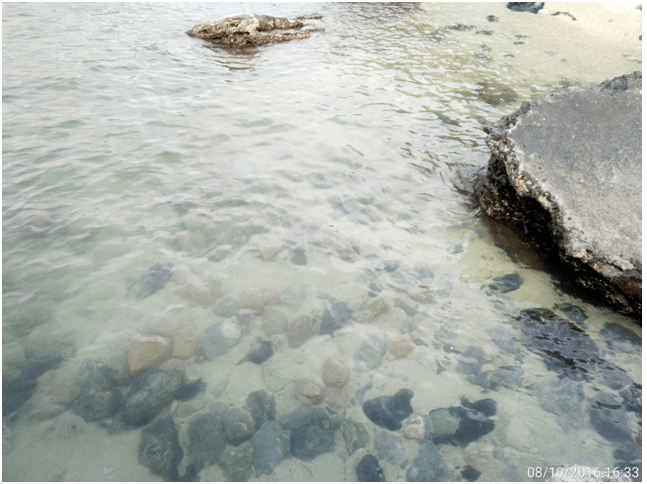 I originally love nature, quiet and peaceful, how lucky , the day I came here, all I want to have was enough.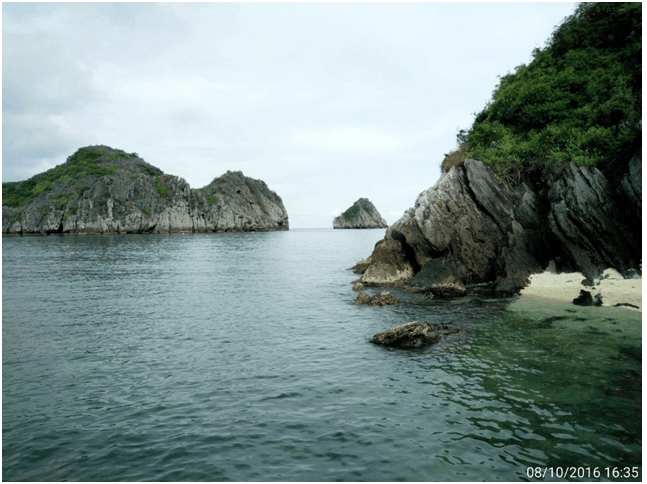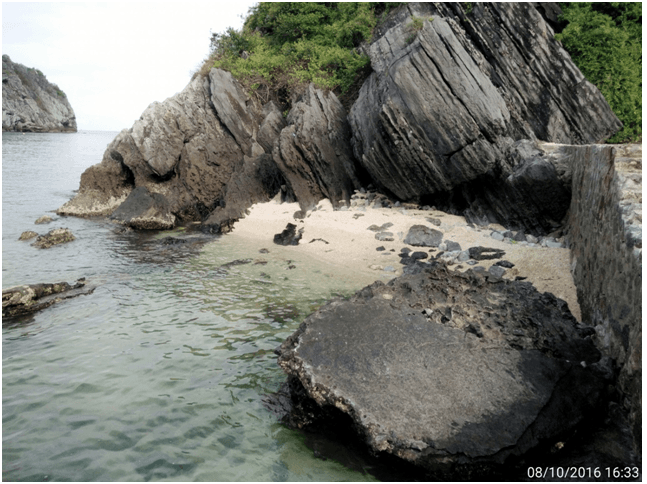 After three hours on Monkey Island, I took some rest and had my dinner. I continued to explore Cat Ba while the sun set.
I can not help but mention the cooking class for spring rolls – Vietnamese traditional food. With big help and enthusiasm from our tour guide, not only foreign first-timer friends, but also me – a Vietnamese girl who has known how to cook spring rolls for more than ten years - were all excited to make them with ground pork, vegetables (carrot, onion, spring onion...). All of ingredients are so fresh!
While having our spring rolls with simple delicious dishes for lunch, we were chitchatting about studying, working, or many good memories we had over short trip in Halong in spite of the pouring rain.
We boarded at Tuan Chau harbor approximately two hours later and walked into the waiting room to say goodbye to Halong bay. It even rained more heavily than before. Could that persistent rain know that how much I fell for that place and how I longed to stay?
At 4:30PM Hanoi welcomed me back with the regular dust, smoke, and rush of people in the Old Quarter. My short three-day-vacation had gone; goodbye Halong, goodbye Cat Ba island, goodbye blinding sunshine and fairy sceneries. See you again on a sunny day!
Original written by: Phoebe Vu
Special thanks to Sze Nin Ling and Scott Matt for great help with translation and editing.