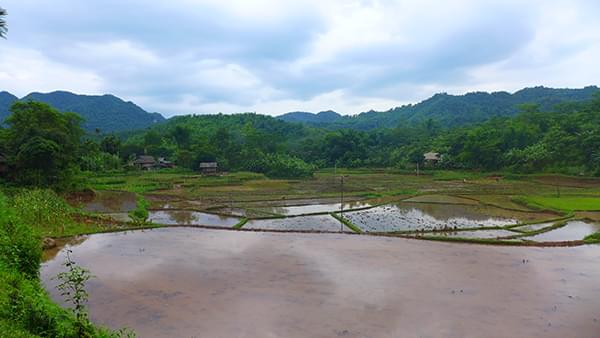 MAI CHAU – PU LUONG 3 DAYS 2 NIGHTS
Product
MAI CHAU – PU LUONG 3 DAYS 2 NIGHTS
(Available from: 01 November to 15 March)
Pù Luông Nature Reserve is a nature reserve in northern Vietnam. This nature reserve is situated in Quan Hóa and Bá Thước districts of Thanh Hóa Province, North Central Coast region of Vietnam. Pu Luong Nature Reserve is bordered by Mai Châu, Tân Lạc and Lạc Sơn districts of Hòa Bình Province. The reserve is located along two parallel mountain ridges, that run from north-west to south-east, and are divided by a central valley, which contains several human settlements and a large agricultural land area, therefore, is not included within the nature reserve. Pù Luông is endowed with great biodiversity, its flora and fauna is closely associated with the Cúc Phương National Park 25 km south-east.
Day 1: Ha Noi – Mai Chau Valley (L,D)
7:30-8:00 – Pickup at GA Hostel or your hotel in the old quarter in our comfortable van
10:00 – Short break
11:30-12:00 – Scenic photo stop of Mai Chau valley/arrive in Mai Chau
12:15 – Traditional lunch in local village (vegetarian available)
13:00-15:00 – Bicycle ride with local tour guide, see farmers working in fields, locals weaving scarves and visit surrounding peaceful villages.
15:00-18:00 – Free time for bicycling, walking, shopping
18:00 – Visit Thai living museum for traditional BBQ dinner
19:30 – Watch Thai traditional dance in the stilt house. Enjoy Tradidional alcohol (ruou can) with the community
Day 2: Mai Chau – Pu Luong by motorbike (B,L,D)
7:30-8:00 – Wakeup and eat breakfast
8:30-10:30 – Drive / ride motorbikes 35km to Pu Luong Nature Reserve (motorbike drivers available).
10:30 – 12:30 - Trekking in Pu Luong Nature Reserve to explore a stuning cave.
13:00 – 15:00 – Enjoy Lunch in the village and enjoy the riding back to Mai Chau by taking another road through the beautiful rural villages.
15:30 – Arrive in Mai Chau enjoy your free time with your motorbike to explore the Valley yourself.
18:00 – Dinner and over night Mai Chau green valley.
Day 3: Trekking to remote rural villages (B,L)
7:30-8:00 – Wakeup and eat breakfast
8:00 – Go with local tour guideto visit more remote rural villages Na Meo, Na Mo and Xam Pa villages to understand more about their culturevand customs.
12:00 – Back to the homestay for lunch and check-out
13:00 – 15:00 – free time for shopping and relaxing
15:00 – 15:30 – Say goodbye to the family to get on the bus to drive back to Hanoi
18:30-19:00 – Arrive in Hanoi Old Quater. Drop you off at your hotel. End of tour.
Tour includes:
Pick up and drop off at your hotel
Enthusiastic English speaking guide and a local tour guide for 2nd day
Delicous Vietnamese traditional foods
Entrance fees, bicycles
Accommodation in Mai Chau Riverside Bungalow
Tour excludes:
Email us for more details