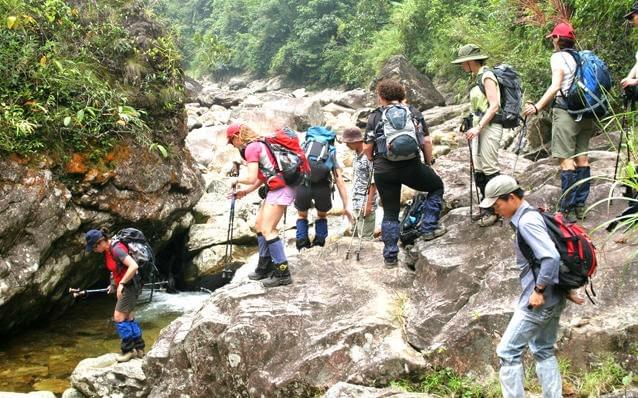 FANSIPAN TREKKING 2 DAYS 1 NIGHT
Product
Day 1: Sapa – 2,800 m of altitude (Breakfast , Lunch, Dinner)
After breakfast in Sapa, we take a jeep to silver waterfall, Tram Ton pass - from this highest pass in Vietnam, starts the strenuous climb to the peak. 8 hours through primitive forest, many small streams and bamboo forests…reach the top of 2,800m, make tents, and prepare for dinner. This is the night for travelers, guide and porters to seat friendly close to each others beside the fire to enjoy the tasty moment that all have once in the life of experience.
Day 2: 2,800 m - Fansipan peak – Sapa (Breakfast , Lunch)
A hard climb heads up to the top the summit. At the top you will be the vanquisher. Take your time to enjoy yourself, take pictures and your lunch then descend the same way or take another way to go down to the foot of the mountain and take a jeep back to Sapa.
What to bring:
Essentials:
- Good hiking shoes (should be soft, well fitted and anti-slippery), thick socks.
- Warm jacket and pullover (air expected to be very cold), preferable with head cover
- Rain coat (big enough to cover you backpack as well), cap, glasses
- Flash light
- Well-fitted gloves to help grab while trekking.
- First aid kit (aspirin, anti-biotic, salon pas, healing tape, energy pills...)
- Personal hygiene stuffs
Optionals:
- Sleeping bag (otherwise will be provided on spot)
- Insect spray (not really necessary in this season)
- Protectors for knees and ankles- Whistle (to alert in case of emergencies)
Additional tips:
- All belongings should be compact, light and just sufficient for the trek, avoid getting yourself suffering from the unnecessary burden
- Trousers dressing should be loose to make it easy for long treks
- Always stick to the group or local porters in case of assistance, dont deviate.
- Keep a good stable pace, no need to rush in any case. If you are ahead of the group,
slow down and wait for the company.
- Always get yourself enough energy from the meals, particularly breakfast.