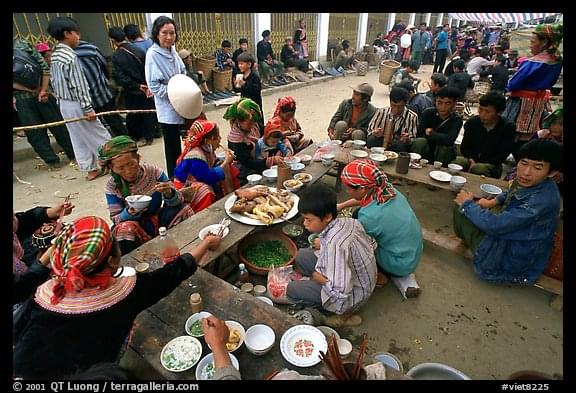 Product
Surrounded by immense mountains, covered by the clouds, on the high of thousands meters, laid the district of Bac Ha, which is known as a land of beautiful scenes, flower scents, diversity culture, and temperate domains. Undoubtedly, this semi-temperated land has so many things to be discover, not only the special culture, but also the tasty food and outstanding land scape.
This big market in the north west of Vietnam filled with many different hill-tribe peoples such as Flower Hmong, Dzay, Tay ..people.
This market only runs in Sunday, and you can combine this market trip with other Sapa trips.
Itinerary:
We start our trip from Hanoi or Sapa. When arriving Bac Ha market, you have free time to enjoy the local simple but unique kinds of food with special wines made from rice, cassava, corn and different sorts of fruits such as plumps, apples, peaches... talking to the minorities through the guide`s interpretation.
After lunch leave the market for visiting the H`mong King`s house (King Hoang A Tuong) built by the French and the Chinese in 1920, short walking to see Ban Pho village homeland to Flower Hmong. Say good bye to Bac Ha and get back to Lao Cai Station/ Sapa. On the way back, drop in to see the Vietnamese and Chinese Harbor Mouth in Lao Cai.