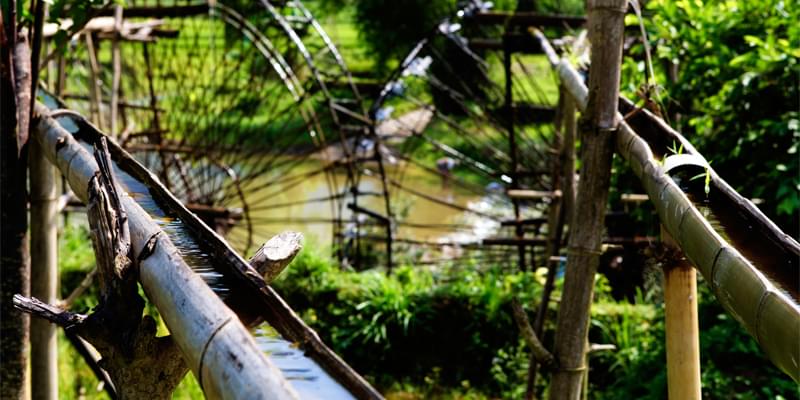 Product
Mai Chau is located in Hoa Binh province, approximately 135 km from Hanoi and 60 km from Hoa Binh. From the top of Thung Khe Pass, one can admire the superb panorama of Mai Chau surrounded by a green valley and stilt houses. Many minorities, including the Thai & Muong and H'mong ethnic group, live in Mai Chau. These ethnic groups like all others in Vietnam has its own identity with their own distinct dress, language and customs. Spend the night at a traditional family house and joining in the traditional dance show by Thai musicians and dancers is quite entertaining and it's really a highlight of the visit to their village. Along the journey you can see their beautiful wooden houses which were built on stilt border both sides of the roads. The houses are quite large with palm leaf roofs and polished bamboo-slat floors. The kitchen is located in the center of the house; the cooking as well as the making of the colourful Tho Cam (brocade), the material used by Thai minority to make their clothes, takes place in the kitchen. The windows are large and decorated with patterns.
7h30 – 8h00: Our bus and tour guide Pick you up at your Hotel in the Old Quarter. On the way you have good chance to see the beautiful landscapes of Vietnam's mountainous countryside.
10h00: Short break at Luong Son – Hoa Binh.
11h45: Before arriving Mai Chau Valley where is compared as a miniature Sapa, Bus stop to let you take photos at white stone pass. Bus drop you at Poomcong village where you can go inside stilt house of Thai ethic and have lunch with traditional local food.
13h00: After having lunch. You follow tour guide to do biking (around 20 km) to visit the most beautiful villages around Mai Chau such as: Poomcong, Lac 1, 2, Na Phon, Chieng Sai villages Where you can see the majestic scenery with green, yellow rice and corn fields and see daily life of Thai People such as: farmers working in fields, locals weaving scarves.
15h30: Getting back Mai Chau center then have 15 minutes for relaxing and shopping. Then get on bus back to Ha Noi.
19h00 – 19h30: Back to Ha Noi we Drop you off at your hotel. The end of great tour.
Tour includes:
Pick up and drop off at your hotel
Enthusiastic English speaking guide
Delicous Vietnamese traditional foods
Entrance fees, bicycles
1 bottle of mineral water
Tour excludes:
Drinks; Personal expenses